Our third and last theme for the year is Izanami-no-Mikoto. In Japanese mythology she is a goddess of life and death. The editors and I were looking into mythology about rebirth and came across some stories about Izanami and we thought that she would fascinating inspiration for poems and art.
Like Izanami, women are life-bringers in so many ways, not just through the birth and rearing of children. There are many ways to give life, and the form we most love here at Cauldron is the giving life to stories, poems, art. We can't wait to receive new submissions!
Powered by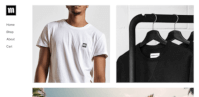 Create your own unique website with customizable templates.