Birth Is A War Story

Birth is a war story. There are few things more powerful than birth. In the myths Izanami gave birth to nine children, and she created even more gods and goddesses. I was in my early teens the first time I saw a child born into this world. I've seen this cataclysmic event nine times now. I believe that birth isn't just about the creation of children. I believe you are giving birth when you bring anything creative into the world. It is a war to be female. It is a war to give life. Weave you stories and send them to us. We can't wait to read, or listen or see your work.
Powered by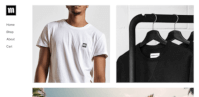 Create your own unique website with customizable templates.