Corn Mother

​

Corn Mother is a powerful symbol of feminism because she represents one of the most underappreciated jobs of a mother: her sacrifice. Details on the various versions of her story have been covered by previous posts, but the part that stands out to me is that despite being branded a witch by her own community and family, Corn Mother continues to love them and sacrifice of herself for their good. When I think of heroes, this is the type of story I think of: one in which the heroine is betrayed by her own people, but instead of seeking revenge, she blesses them and gives of her final breathes to make their lives better.
​

This is important to me because I have a mother who sacrificed a lot to raise me and my siblings, and she deserves to be thanked more than I will ever have the chance to. So in my mind, Corn Mother is the perfect symbol for the undying love of the mother, whose love is so great it brings back the corn anew each harvest. Corn Mother is here to remind us that our mothers are looking out for us and deserve our thanks and our blessings because they have sacrificed more than many of us can ever imagine. And if/when we become mothers, I hope we can do their memories justice.
Powered by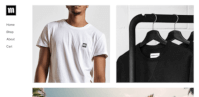 Create your own unique website with customizable templates.